Introduction and Copyright Information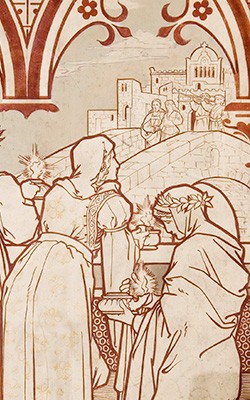 Over the three-year period of the Imaging the Bible in Wales research project, over 250 locations around Wales were visited and artworks in all media were photographed. Much of this material is located in places of worship and has not been published before. In some instances we have been able to list additional material accumulated from secondary sources or provided by individuals and institutions.
The material illustrates biblical characters, scenes and themes, and the research focussed on work relevant to the period 1825-1975. In some instances artwork has been included outside of these dates and contextual photographs, such as exteriors of relevant buildings, have also been added.
We are most grateful to all copyright holders and institutions who have generously agreed to be included in this freely accessible online archive of art from Wales. In some cases we have not been able to locate artists or their estates and we welcome information from any that we have been unable to contact. All images on the database are protected by copyright law and users are asked to respect the rights of copyright holders represented on the database.
Subsequently, the database has been substantially enlarged with the help of the Stained Glass in Wales Project (2009-11), and the database now includes in excess of 6,000 images and lists nearly 3,000 items. This has increased the range of the material to include medieval biblical subjects in stained glass.
In some instances, where relevant visual material is available on other websites, links have been provided. In other instances, reference has been made to printed literature where the listed works in question have been illustrated.
The database has been designed by Martin Crampin and Nigel Callaghan in collaboration with the project director Martin O'Kane and John Morgan-Guy, Research Fellow. The text has been written by Martin Crampin and John Morgan-Guy with assistance from Charlene Crampin and Stephen Edwards; contributions from others have been noted in specific instances.
For further information on the use of images, or information regarding copyright holders, contact Martin Crampin (mcrampin@wales.ac.uk).
Imaging the Bible in Wales
Stained Glass in Wales